Landscape Materials for Sale
Delivery & Pickup
OSO Construction has just grown! We now have Landscape Materials for Sale right here in La Vernia, TX. That's right, Wilson County; we can help with your landscape project and all your construction needs. 
Our material yard is located at:  4013 CR 342, La Vernia, Tx 78121.
Naturally, we carry over 40 different landscape materials for sale.  If we don't have it, we may be able to find it for you. Conveniently located in downtown La Vernia, we proudly serve La Vernia, Floresville, Poth, Sutherland Springs, Stockdale, Seguin, Adkins, New Braunfels and San Antonio.
Our Office Hours:
Mon-Fri:  8am-5pm
Saturday:  9am - 1pm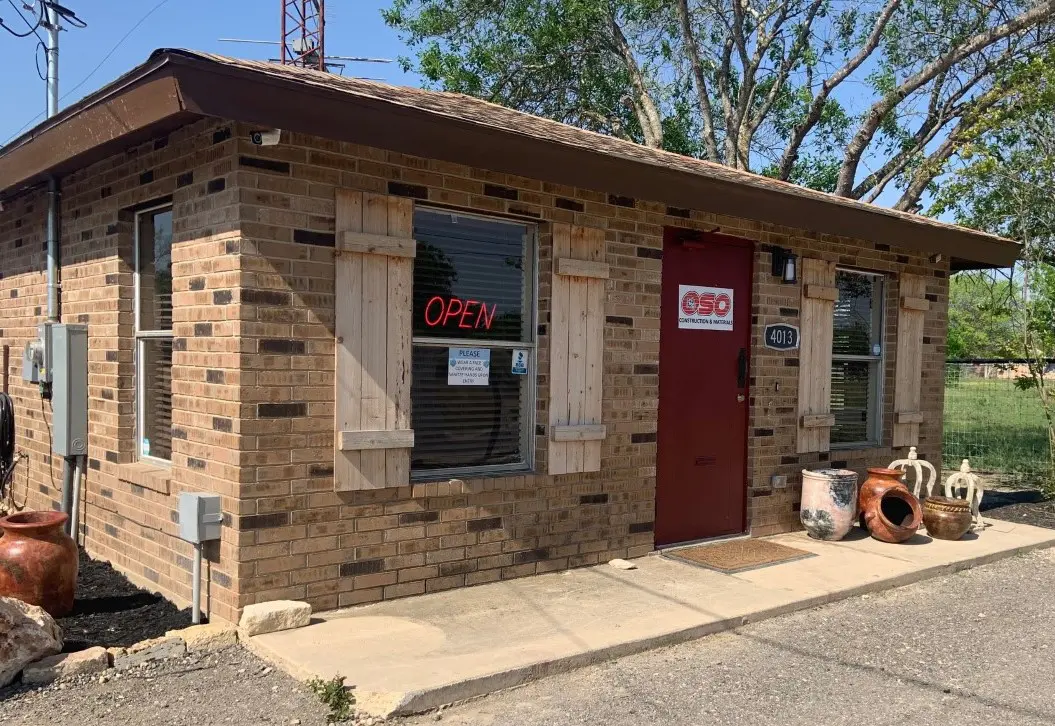 Call us today to place your order for delivery, or come in and pick it up! Delivery is available to New Braunfels, Poth, Floresville, Falls City, Stockdale, Sutherland Springs, Elmendorf, Seguin, and anywhere between.
Our material yard is located at:  4013 CR 342, La Vernia, Tx 78121.
We now serve Wilson County for all your landscape material needs. Call us at (830) 253-5737.  If we don't have the item you need listed above, call us, we can normally get it in a few days!
Our material yard is located at:  4013 CR 342, La Vernia, Tx 78121.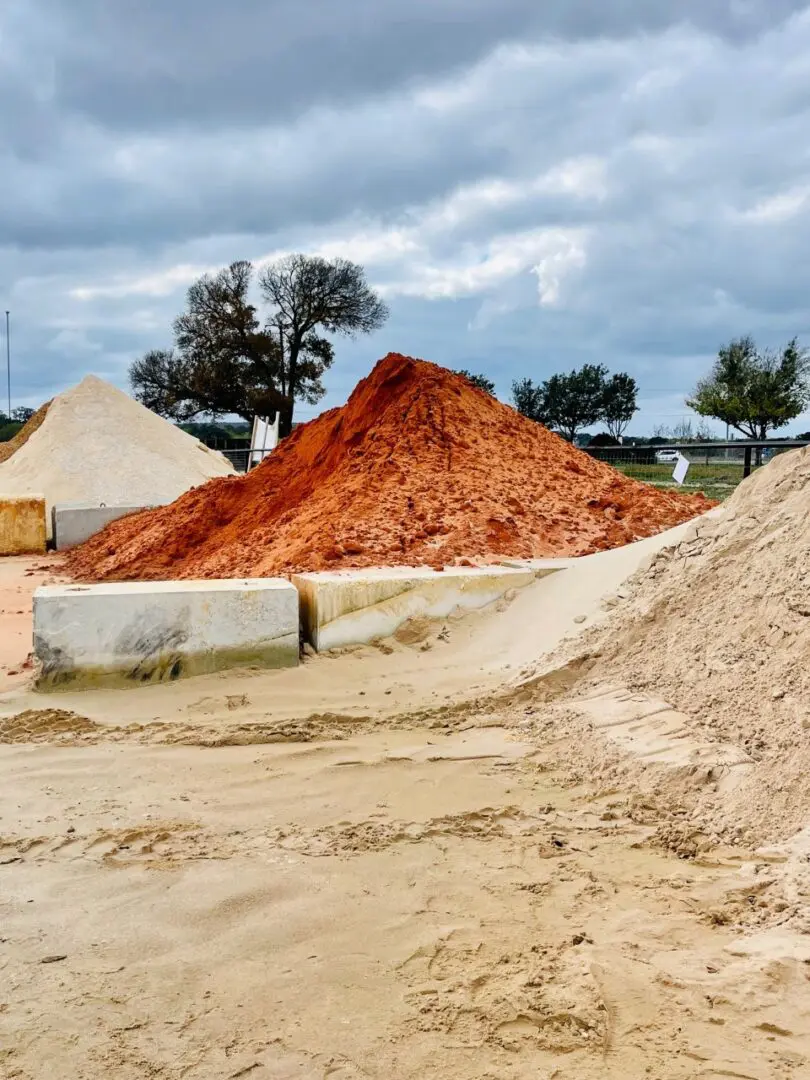 BASE WORK - Base Parking, Base Roads, Base Pads ARE OUR SPECIALTY!
Call us for a free estimates on base roads, base parking and base pads in La Vernia, Sutherland Springs, Stockdale, Poth, Seguin and Floresville, (830) 253-5737. If you know the area (length/width/depth), we can easily quote you a price for base delivery and installation. Installation of base roads only takes a couple hours and a rain free day. Not only can we deliver, we can spread and compact it for you!
Do you have a long dirt road that is a mess after the rain? A base road can be the solution to a messy road. When you call us, let us know the area of your road and we can quickly quote your base road in minutes. If you prefer a site visit, we gladly offer no obligation site visit to discuss the best option for your base road (and we socially distanced, of course).
Base installation for driveways, base parking area (commercial and residential), base material for dumpster pads, base material for a walkway or path, we do it all! How about those pesky pot holes? We can easily fill them in with base material in minutes. Base material or asphalt milling is a quick and easy fix.
We can install a base road anywhere in Bexar and Wilson County; La Vernia, Floresville, Adkins, Sutherland Springs, St. Hedwig, New Berlin, Marion, Seguin, Poth, Stockdale, New Braunfels or San Antonio.

Base roads are our specialty!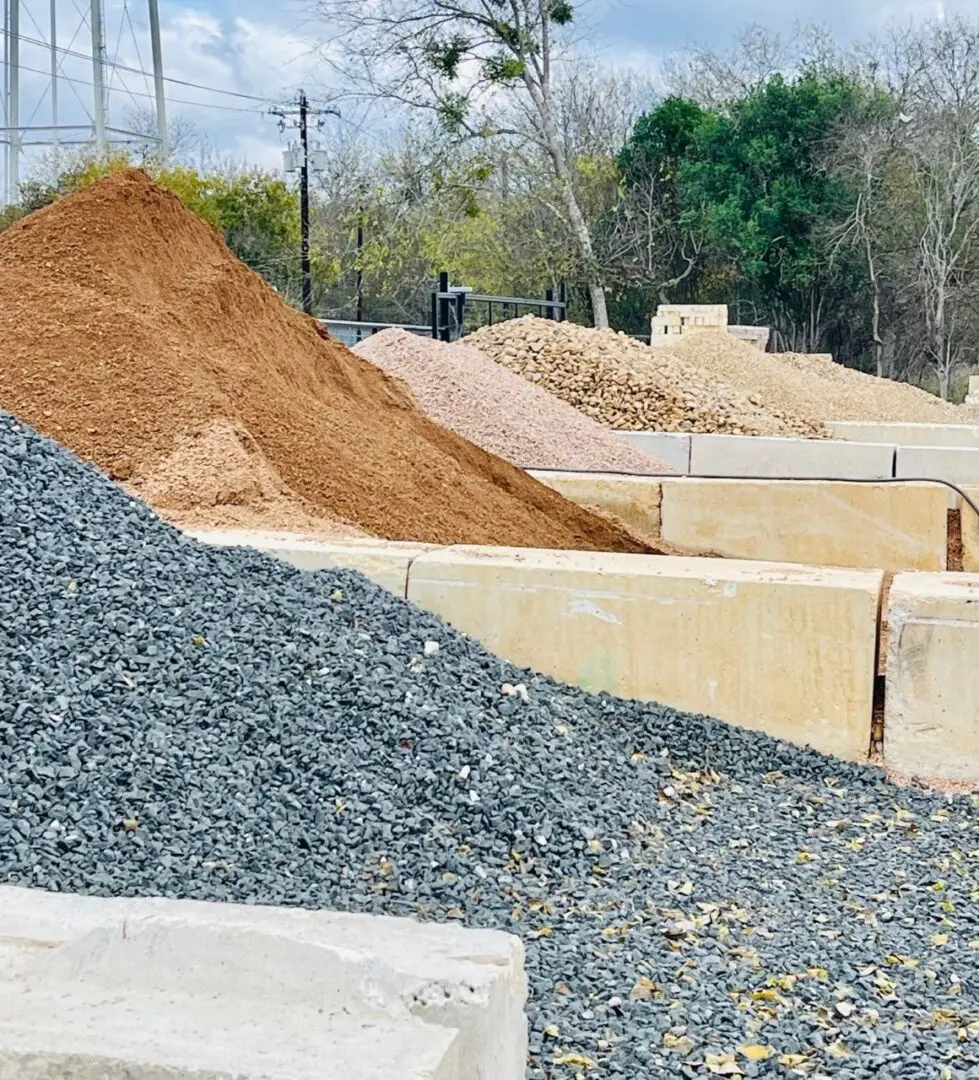 Catering to All Your Commercial

and Residential Needs
Are you trying to spruce up your front yard? We have MULCH – red mulch, black mulch, and CEDAR Mulch.
Is your dirt road making you crazy after the rain? How about adding some BASE MATERIAL to your road or driveway – we carry a #2 road base and a 3/4″ dust base.
Ever tried ASPHALT MILLING – it can solve your dirt road problems. Naturally, have that covered as well. Not only do we carry road base and asphalt milling, but we also deliver it, and we can spread it for you – give us a call for a hassle-free estimate.
Are you installing an above-ground pool, and do you need to level out the terrain? Easy fix, washed sand is the easiest way to create a level surface for the above-ground pool. We also have masonry sand, plaster sand, red sand, and 3/8″ rock sand mix!
Thinking about creating a xeriscape area for easy upkeep and no water use? We have Tx River Rock, Brazos Blend Rock, Shadow Stone, and White Limestone Rock. But that's not all – we have so much more landscape materials – we also carry flagstones! So then, call us to learn more about our landscape material delivery. We are locally owned and proudly serving La Vernia, Floresville, New Berlin, Seguin, Stockdale, Poth, Elmendorf, and Adkins for all your landscape material needs.